The Graduate and Professional Student Government (GPSG) is committed to ensuring a diverse group of students, future academics, and professionals are represented. As a governmental organization in an institution of higher education, we strive to do our part in promoting the ideas of diversity, access, and inclusion for each student, regardless of race, ethnicity, nationality, religion, language, age, sex, gender identity, sexual orientation, or socioeconomic status.
WE HIGHLIGHT DIVERSE GRADUATE STUDENTS AND STUDENTS DOING DIVERSE RESEARCH
JANUARY 2020 - ROBERT M. GOOLJAR, JR.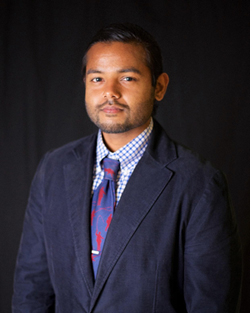 Department: Department of Geography and Earth Sciences
Program: Ph.D. Geography
About me: I am a Trinidadian-American first-generation college student pursuing my PhD. I was the first person in history to obtain the Master of Arts in Geography – Location Analysis from UNC Charlotte in one calendar year. I also have a Master's in Geographic Information Science from Florida State University. I am the GPSG representative on a working group (CUCWG) for providing recommendations for initiatives for diversity, access, and inclusion at the university level here at UNC Charlotte.
I am a person of color who came from a low-income household, currently in an interracial, same-sex relationship with my partner Brendan. While I am in school, I also run a consulting firm doing predictive real estate analytics. I enjoy cooking, being mindful, practicing self-care, traveling (going to France this year!), and spending time with my friends and animals at home. 
About my research: While my research is primarily focused on real estate applications of geography, I research in a few different departments showing the utility of GIS in inter/multidisciplinary research. I am currently working on a paper with the Engineering department about using GIS applications for understanding freight movement on the North Carolina Ferry System, and another in the Childress Klein Center for Real Estate about the state of housing in Charlotte. I am also working on a paper in the Geography department about proprietary vendor data bias introduced into the location analysis process. My dissertation research is about understanding amenities (for various demographic groups) regarding real estate values, and how they relate to perceived light rail impacts at urban and suburban levels.